Tyler Adams captained the USMNT at the World Cup in Qatar, but his side fell short at the Round of 16 stage losing 3-1 to Netherlands.
Adams' USA side finished second in Group B behind England, and he was named Man of The Match in both of his nation's opening games at the tournament against Wales and the group winners, according to the team's Twitter account.
Leeds fans are well aware of what Adams' qualities as a midfield player are by now and he plays with the same intensity off the ball for his national team. He barely gave any midfielder he came up against a second on the ball before coming in to press them.
His performances earnt him many plaudits, but in his side's final game Adams had his worst performance at the tournament. But what are pundits are saying about Adams after their defeat to the Dutch? We take a look at TWO things they said here.
Leeds United at the World Cup: Can you score 100% on our quiz?
Richards, speaking during BBC's coverage of the game, was quick to point out the weaknesses in both Adams and his midfield teammates' performance, he said: "We bigged them up before the game – [Yunus] Musah, Adams and [Weston] McKennie, but they're just naive in trying to press.
"They're out of position and then they're running backwards instead of already being in their positions."
The former Manchester City full-back pointed out how easily Netherlands exploited the holes in the US side, he added: "Memphis Depay here, he's run away from Adams. We've been talking about how good they have been at reading situations."
Adams' reading of the game wasn't as sharp as it had been in the groups, Richards added: "It's just that split-second, switched off, and the Dutch have really hurt them."
Lalas was also aware of the defensive issues, but speaking to FOX Soccer, he still believed he came out of the tournament as the USA's most impressive player, he said: "MVP (most valuable player), man of the World Cup, for me, despite his lack of tracking back today, is still Tyler Adams."
The former USMNT international argued that he has enhanced his reputation in world football, he said: "He comes out with an incredibly enhanced value and image, not just from American soccer folks, but from the world.
"I think a lot of people that watched this team looked and said 'I want that guy on my team'."
Is Adams one of the best midfielders at the World Cup?
Yes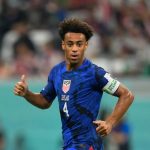 No