Leeds United striker Patrick Bamford cut a frustrated figure in attack against his former club Nottingham Forest, and his toils were a damning indictment of Jesse Marsch's time at the club.
A defeat away at Nottingham Forest was the straw that broke the camel's back for the Leeds hierarchy, deciding to part ways with Jesse Marsch after 11 months in charge.
It was a justified decision when looking at how Leeds have struggled at both ends of the pitch, and this game was proof of the problems Leeds have had under the American, with Patrick Bamford's display a symptom of that.
The number nine linked up well in the first half, helping Leeds pin back the Reds as he competed in 13 duels, but he was unable to make much stick as he remained isolated for the 70 minutes he was on the pitch (via Wyscout).
Bamford only mustered one shot on goal before being brought off in the 68th minute, but Leeds' issues stem beyond what Bamford could managed, as the whole side only registered one attempt after that.
The 29-year-old wasn't happy after the match, suggesting that Marsch's setup was to blame for his lack of impact:
"I felt fine physically, it was just a tough game. I was saying in the changing room then, their centre-backs just literally had me to concentrate on so we needed more runners running past me to kind of drag them out of position and create a bit more space.

"Whereas the whole game was literally two-v-one, which made it difficult and unfortunately, today I couldn't find the answers to solve that."

BBC Sport
The stats back up the striker's thoughts, as he only received 15 passes, while losing five from six aerial duels against dominant centre-backs.
Leeds were trying to be direct, but gave Bamford very little to work with, meaning his influence shrank as the visitors became easier to defend against, resulting in only two touches in the penalty area for the striker.
With these passes received, it was either one of two extremes for Bamford, either with plenty of space in transition with no support, or in a ridiculously packed area of the pitch: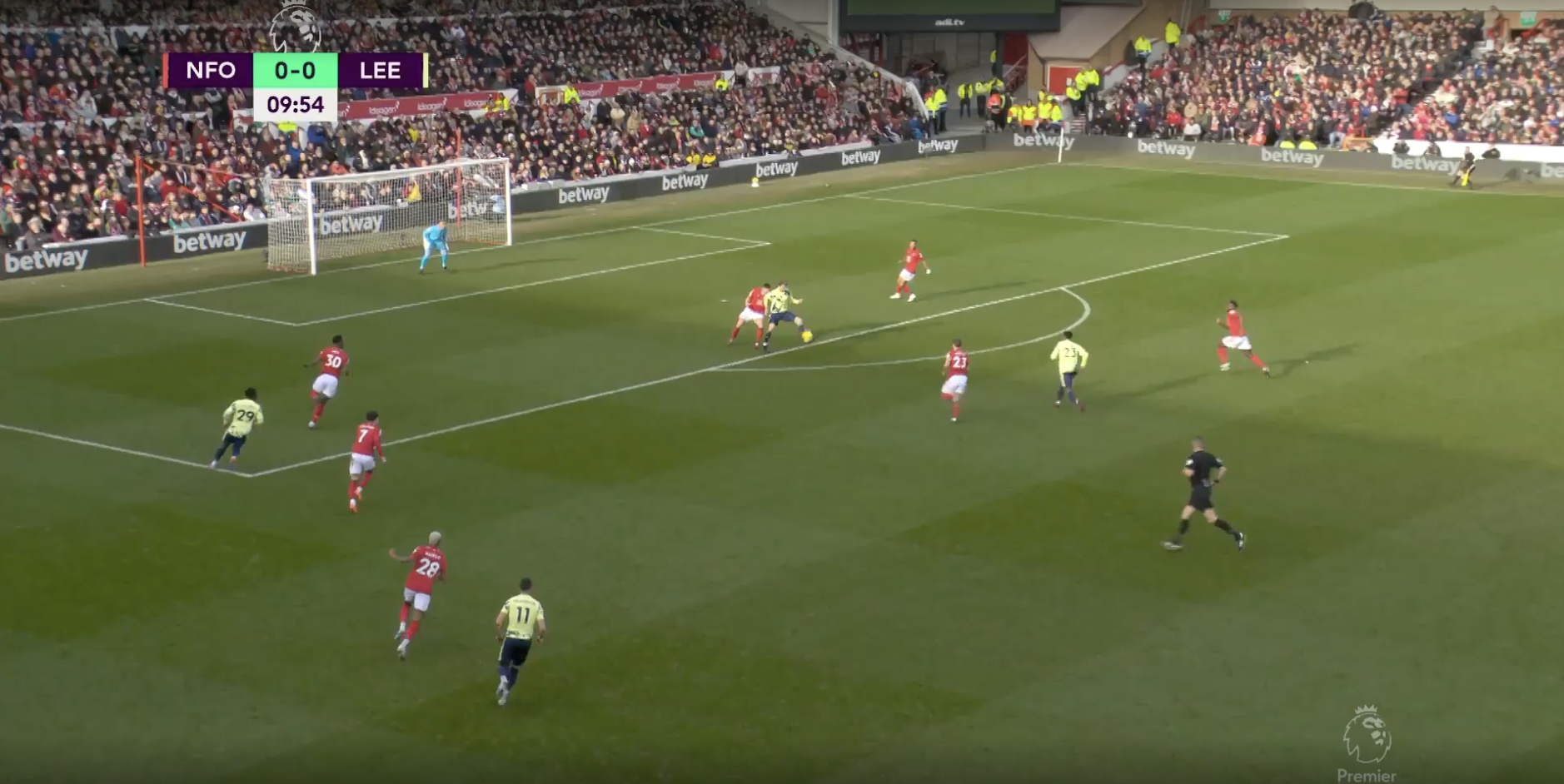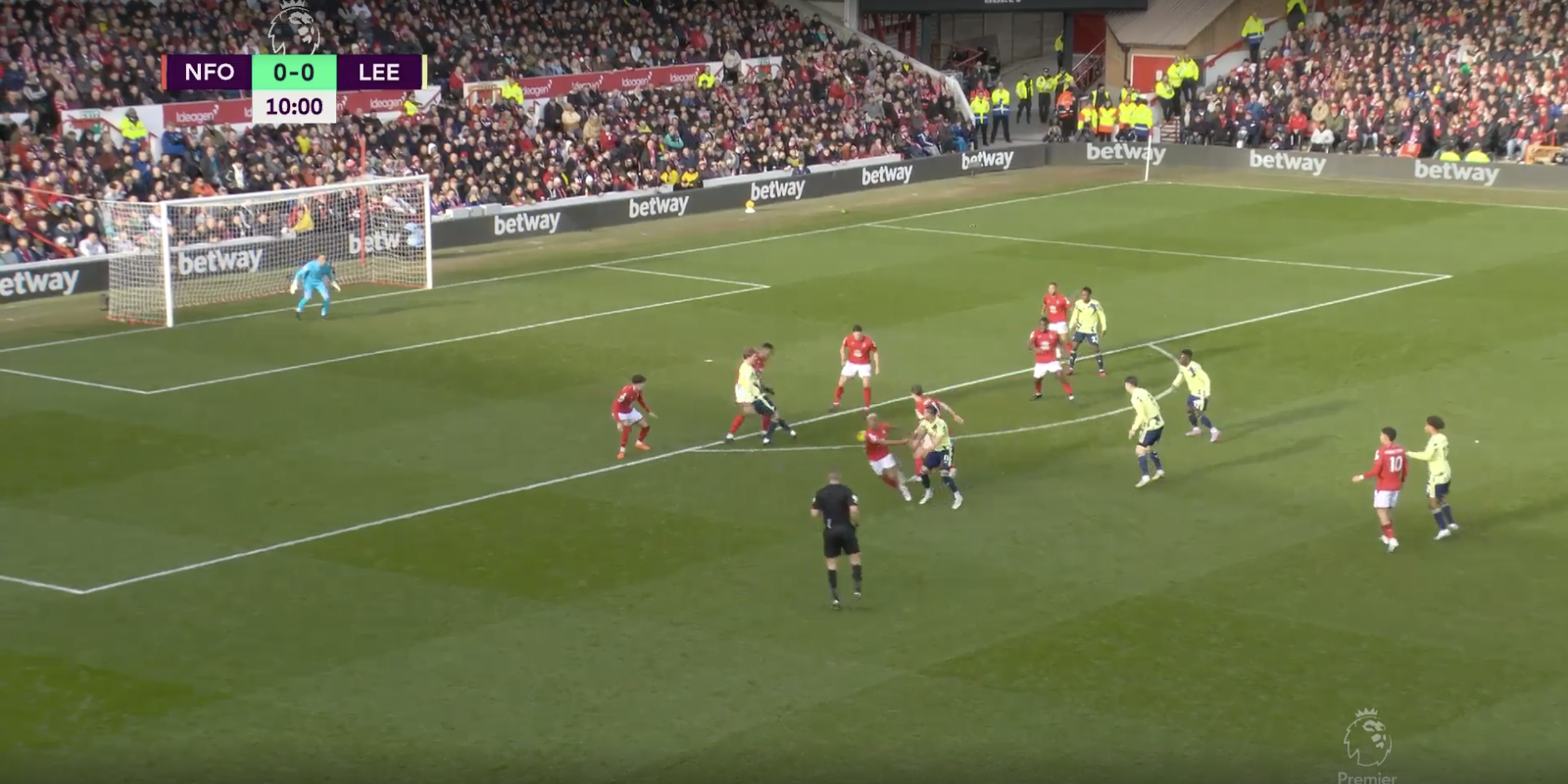 Two passes for Bamford in the space of six seconds that show the issues that Leeds had under Marsch, going from no support from wide positions, to players flooding forward and making for high-traffic situations where it's nigh impossible to create anything meaningful, more than just through chaos.
13 players are in around a 15x15yard space in this image above, with no players occupying the glaring space out wide.
Bamford has a chance now to prove he is the player that can take Leeds forward as Rodrigo sits out with injury, but playing to his strengths is also needed, which a new manager should provide.
Playing so vertically could have benefits, but there's such obvious flaws to it when we ended up reverting to pinball by asking Bamford to pin two centre-backs at once while linking play in the most crowded area of the pitch, all with his back-to-goal and no striker with him.
Quiz: Can you remember Leeds United's last 15 results v Man United ahead of midweek clash?